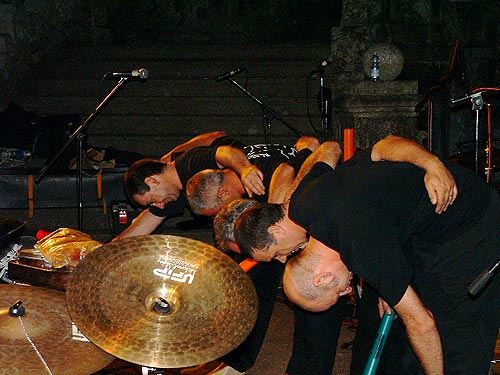 A percussion ensemble that knows how to sing using the sounds of drumheads, wood, metal, and whatever else can be knocked on, touched, brushed, shaken.
The magic world of percussion, the never-ending pursuit of extracting new sounds from the instruments used, the perfect rhythmic synchronisms, the empathy among artists, and a keen desire to entertain, are all distinctive traits of the ensemble, created in 1984 with the collaboration of Gunter "Baby" Sommer, visiting Lecco at the time for a series of workshop at the Crams Institute.
Tours followed in East Germany and across Europe (Jazz Festivals in Clusone – Le Mans – Mulhouse – Berlin- Lyon – Nevers – etc …).
Performances in a variety of venues and explosive collaborations (Konrad and Johannes Bauer, Dietmar Diesner, Gianluigi Trovesi), all added to group's ability to push the envelope, to transcend the confines of traditional concerts, and turn their appearances on stage into all-round events, of which the visual element, the moving bodies, become a key ingredient.
The evolution of the ensemble subsequently went hand in hand with the artistic growth of the musicians, with composition increasingly becoming a shared responsibility, to the advantage of variety and innovation; subtle atmospheres and textures find their way into the skilfully woven tapestry of sound (for instance via the evocative sound of the Hang).
The song of drumheads, wood, metal, pursued ever since the group's beginnings, now finds its melodic outlet in the sound of the marimba, the vibraphone, the trumpet, and in the members' voices…. A song which tastes and smells of the sea, of seashells, and of the surf.
Marco Castiglioni
drums, congas, vibraphone, marimba, percussions
Francesco D'Auria
drums, hang, water drums, tephonaxli, zufoli a soffietto, percussions
Mauro Gnecchi
drums, "armonic flute", water drums, percussions
Pietro Stefanoni
drums, percussions
Fausto Tagliabue
trumpet, Flugelhorn, marimba, vibraphone, rocks, zufoli a soffietto, shell, percussions